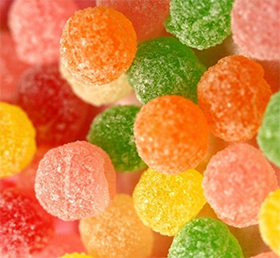 In many people's memory, candy represents for happy when you are feeling sadness and sorrow, or when you would like to build a friendship with a strange child.

Sometimes, A little candy could easily bring you a happy day.
When individuals eat candy, their brains will realize a Chemical, called Dopamine, which is why it makes people happy. Dopamine communicates excitement and joy to the brain.
Candy makes people joyful because it causes the production of the chemical dopamine in the brain. Dopamine conveys delight and excitement to the brain. Dopamine appears to have "failed" in recent years, and people's cravings for sweets have declined.
The Chinese market's confectionery business, which had been proliferating for more than 30 years, reached a turning point in 2014, after which the entire sector began to experience a long period of performance deterioration.'
Data from Mintel show that the confectionery market started to slow down in 2015 and experienced a decline of 5.1 percent between 2015 and 2016. Statistics from Syensi also revealed that China produced 3.31 million tons of candy in 2017, a 6.0 percent decrease from 3.52 million tons in 2016, and a 13.0 percent increase from year to year in 2018.
The candy business has been struggling lately. According to data from Zhiyan Consulting, China will produce 3.013 million tons of sweets in 2021, a decrease of 2.36% from the previous year.
So many people have a question: Why the confectionery manage to lose popularity overnight?
In this regard, a lot of individuals firmly assert that: this is connected to the promotion of consumer health awareness; also, a lot of people firmly assert that: this and the current "sugar reduction fashion" cannot be eliminated.
The most popular food and beverage trend, including sweets, is reducing sugar consumption. According to a survey on health and nutrition by Innova Market Insights, consumers attempt to limit or minimize consumption of unhealthy products and ingredients like sugar, salt, and fat across 10 different nations on average (73%).
It is important to note that the epidemic and recent inflation, which are producing financial instability, are two factors contributing to this trend. Consumers "want to find consolation in better-for-you candy as they reassess their diets to pursue a better healthier lifestyle," the experts stated.
Consumer interest in plant-based sweeteners is growing
Consumer demand for more plant-based goods had an impact on the confectionery sector in 2021, according to a global analysis of the confectionery market by Innova Market Insights.
This has increased interest in plant-based, calorie-free sweeteners like stevia. Sugar-free and whole foods were highly sought after for candies and chewing gum, according to the same survey.
Brands are under pressure to provide foods and beverages that taste good, are healthier for you, and have less or no sugar.
To Pursue Health
Consumers' increasing adoption of better lifestyles is what is driving the demand for healthier candy. Experts say that the desire for health has increased dramatically over the world over time.
"The numbers increased dramatically during the pandemic when the need for dietary supplements, immune boosters, and a balanced diet increased dramatically. The market for healthy products is expanding as a result of consumers' growing desire to be healthy, the population's concentration in large urban centers, and the fact that most customers lead demanding and stressful lives daily."
To The sustainable development of the earth
Consumers desire more environmentally friendly products, but they won't forgo nutrition. One of the major macro trends for 2022 is sustainable development and nutrition.
This is also consistent with the One Planet 2022 trend from Innova Market Insights, which stresses the importance of companies and consumers participating in the creation of a sustainable future.